Ableton Free Sound Packs! Are you looking for good analog synth sounds for your music productions? Here are my first sound packs for Ableton Live, and good news, some of them are FREE :)

My Ableton instrument packs are:
sampled in 16 or 24bits from hardware analog synthesizers
multisampled to capture all details
compatible with Ableton Live 10 Sampler and/or Simpler
available for all my supporters on my Patreon, but some Ableton soundpacks are 100% free with slightly degraded sound quality.
And if you support me on Patreon for the price of a coffee ☕, you have access to all my instruments packs for Ableton Live, current and future! Lucky bunch eh? 😁
The more support I get from you, the more Ableton free synth packs I will release! I may also release them under a SoundFont format if you wish...
Behringer Pro-1 based instruments for Ableton
This synth is a clone of the legendary Sequential Circuit Prophet-One, known for its punchy, aggressive and fat sounds! It is extremely flexible with its 2 VCOs, great 4-pole low pass filter, 2 ADSR envelopes and flexible modulation possibilities.
Some of my sampled instruments are recorded without a filter, and others with it for a more authentic analog sound. The advantage of unfiltered sounds is that you can filter them easily with Ableton in the Sampler or Simpler (so they should work also with Ableton Live Lite/Intro/Standard).
List of sounds (10 instruments racks):
PRO1 12 bass2o:

2 instrument racks. A fat acid/funky bass sound with two square detuned oscillators.

PRO1 11 biglead:

1 flexible instrument rack, made with two square oscillators. The 2nd one is tuned one octave lower plus a 5th. Added PWM LFO for movement. No filtering so that digital filtering can applied in Sampler/Simpler in Ableton.

PRO1 11a-g biglead: 7 instrument racks ⭐

Same waveforms/oscillators as above but with the Pro-1 analog filtering and various filter and amplifier envelopes.
More details about the settings used in the Readme.txt file of the pack
⭐ some sounds of this pack are available for Free in a degraded version
The Free and non-Free sounds can all be downloaded on my Patreon: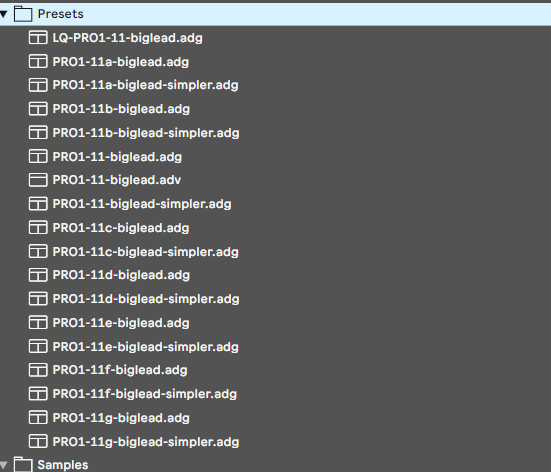 To listen to some of these Ableton packs, go to my YouTube channel here: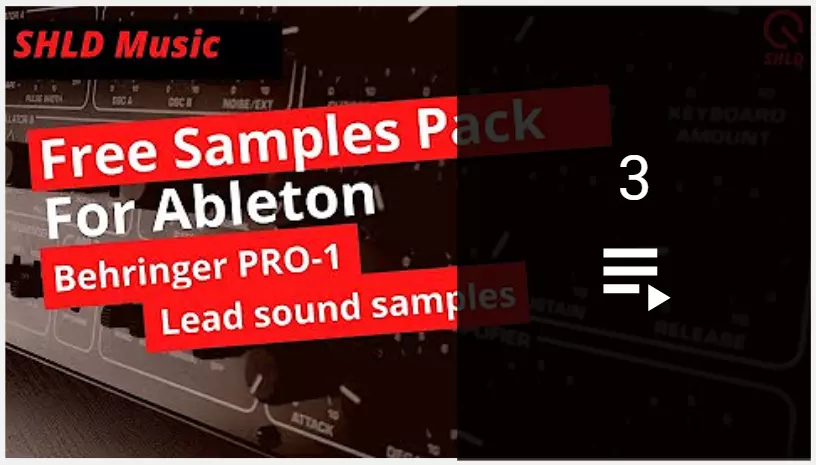 If you have Ableton sample pack suggestions, fell free to contact me below or on my Patreon!