Hey there, fellow music makers! Are you on the hunt for some killer analog synth sounds to take your tracks to the next level? Look no further than SHLD Sampled Analog Synth Packs! These babies contain recordings of analog synths that have been painstakingly crafted and edited to bring you unique and organic sounds. With analog sample packs, you can bring a timeless and classic feel to your music that is sure to stand out in today's competitive music industry.
Here are my first samples packs for all DAWs, and the good news, some of them are FREE :)
These samples are unique in both their sound and character, giving a highly original sonic experience that doesn't exist in any other sample library available.

The SHLD sampled instrument packs are:
sampled in 16 or 24bits from hardware analog synthesizers
multisampled to capture all details
compatible with your DAW thanks to SFZ sample presets
compatible with Ableton Live 10 or 11 Sampler and also Simpler
100% royalty free for use in your sound design projects or music productions, in any way you like.
If you support me on Patreon for the price of a coffee ☕, you have access to all my SFZ and Ableton sample packs, current and future! I add new samples every month, Lucky bunch eh? Some 100% free sound samples can be also downloaded, without any subscription, with a slightly degraded quality.
The more support I get from you, the more free packs I will release!
Synth samples: Behringer Pro-1
This synth is a clone of the legendary Sequential Circuit Prophet-One, known for its punchy, aggressive and fat tones! It is extremely flexible with its 2 VCOs, great 4-pole low pass filter, 2 ADSR envelopes and flexible modulation possibilities thanks to its patch bay, and even Analog FM.
Some of my sampled instruments are recorded without a filter, and others with it for a more authentic warm analog sound. The advantage of unfiltered patches is that you can filter them easily with Ableton in the Sampler or Simpler (so they should work also with Ableton Live Lite/Intro/Standard), and add your sound effects.
The 'presets' folder contains also the SFZ samples presets compatible with all DAWs. If you need a good free SFZ sample player plugin for Mac an PC, click here.
You'll find in my packs, lead, bass and pads patches, as well as two analog drum kits. These sounds have been carefully selected and recorded to create this endlessly mellifluous instrument library for producers looking for something out of the ordinary.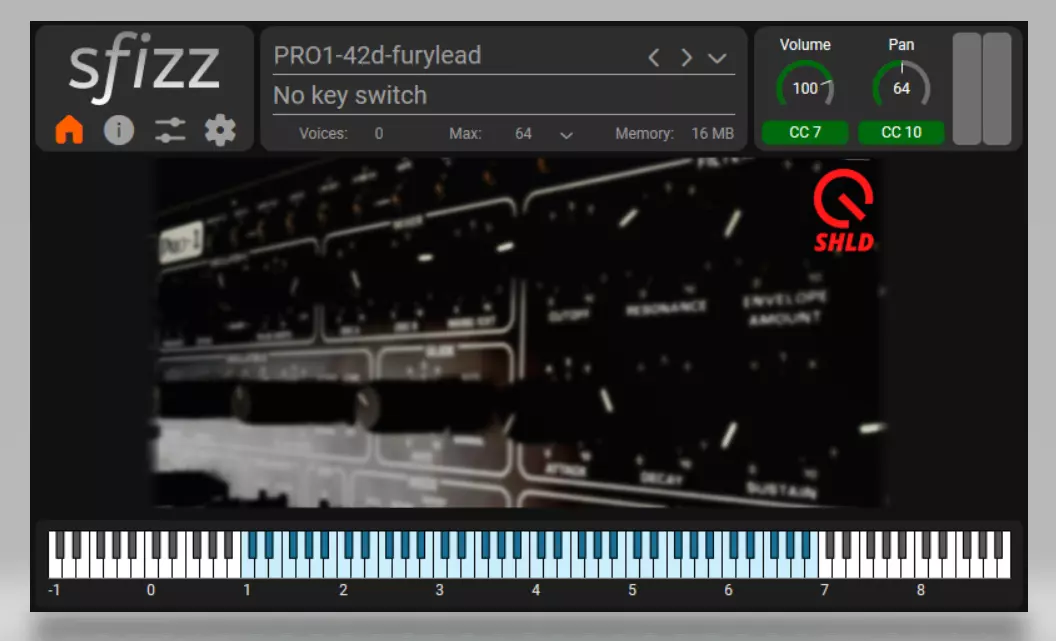 List of sounds (44 instruments racks and SFZ presets):
PRO1 42 furylead: 4 instruments

An aggressive saturated lead sound made with analog frequency modulation of the two PRO-1 oscillators in square + saw mode. A plate reverb was added. The c/d variants of the sound also use analog FM but with different ratios resulting in higher harmonics.

PRO1 41 isarithms: 3 instruments

PRO1 40 rightplace: 2 instruments

A warm analog keys sound inspired by Radiohead's "Everything in its right place".

PRO1 63 glasspad: 2 instruments.

Quartz mineral pads sounds with a rhythmic analog filtering.

PRO1 62 breezepad: 2 instruments

Airy and organic pads with 2 analog triangle waves hard synced modulated by a LFO plus noise.

PRO1 61 greenpad: 2 instruments ⭐

Classic pads with 2 analog detuned triangle waves, processed with a Chorus-Delay-Reverb chain.

PRO1 60 cloudpad: 2 instruments

Deep and dark pads with 2 analog detuned square waves plus PWM

PRO1 21 rightbass: 2 instruments

A classic analog bass sound derived from the Right Place sound above

PRO1 20 reese: 4 instruments

The famous Reese bass made with the PRO1 and an analog chorus, with 4 different variations

PRO1 19a metalbass: 1 instrument

An aggressive growling metallic sound, analog FM bass

PRO1 18a fmbass: 1 instrument

PRO1 17 goabass: 2 instruments

A trance hard bass, with sustain loops. Dual sawtooths.

PRO1 16 pbass: 2 instruments

A classic plucked analog bass. The typical pluck is made thanks to a fast decaying filter on the PRO-1

PRO1 15 worldbass: 2 instruments

PRO1 14 dolcebass: 2 instruments

A funky bass with a typical 80s sound. The "Dolce vita" bass was originaly made on a Minimoog but the Pro-1 sound is quite similar for this patch. Short Demo here.

PRO1 13 subbass: 3 instruments

A deep growling bass with a sub-bass for the 2nd oscillator which is in LO Freq mode. Samples recorded with 3 envelope filter settings.

PRO1 12 bass2o: 2 instrument racks.

A fat acid/funky bass sound with two square detuned oscillators.

PRO1 11 biglead:

1 flexible instrument rack, made with two square oscillators. The 2nd one is tuned one octave lower plus a 5th. Added PWM LFO for movement. No filtering so that digital filtering can be applied in Sampler/Simpler in Ableton.

PRO1 11a-g biglead: 7 instrument racks ⭐

Same waveforms/oscillators as above but with the Pro-1 analog filtering and various filter and amplifier envelopes.
More details about the settings used in the Readme.txt file of the pack
⭐ some sounds of this pack are available for Free in a degraded version
The Free and non-Free sounds packs, can all be downloaded on my Patreon below, and they are all of course royalty-free. Add the 'free' filter on Patreon to see only the free samples, no login is required:
Analog drum kit samples: Behringer Pro-1
When you're looking for that next step in your drum kit, you might find yourself looking for something that is unique and not like anything you've heard before. That's why in addition to the beautiful analog sampled sounds above, I've crafted some electronic drum samples, with the help of my Behringer Pro-1.
Whether you're using Ableton or another DAW, these samples can be easily imported and manipulated to fit your tracks perfectly.
List of sounds (3 Drum Kits packs):
PRO1a-Kit: 1 Analog Drum rack ⭐

A drum rack, made only with Behringer Pro-1 samples. 13 drum samples.

PRO1b-Kit: 1 Analog Drum rack

Another drum rack, made only with Behringer Pro-1 samples. 14 drum samples.

Kicks-PRO1: 16 analog kicks created with the Pro-1

Kicks 1-5: Classic analog kicks
Kicks 6-10: Smoother analog kicks, more like 808s
Kicks 11-16: Longer and more extreme analog kicks
Kick PRO-1.adg: Ableton Live drum rack with 16 kicks
Kick PRO-1 Rack.adg: Ableton Live drum rack with 16 kicks with a shaper to add even more character.
All the samples for the analog drums kits are in the Samples/Recorded directory and can be used with any DAW, Groovebox or MPC.
You'll find there also packs based on the Arturia Minifreak and the Minilogue XD.
If you need more drumkits, take a look at my Alesis SR-16 sampled drum kits.
To listen to some of these sound packs, go to my YouTube channel here:
Or my Soundcloud playlist:
If you're looking for unique, high-quality synth samples for your music production, and did not find what you need here, feel free to contact me below or on my Patreon, whether you're looking for classic analog warmth or cutting-edge digital tones!