How to improve your song mastering? Maybe you should take a look at the Fabfilter Mastering bundle. There are 4 VST/AU/AAX plugins included in this package to help you improve your mastering.
The FabFilter Mastering Bundle is a collection of four professional mastering plugins that will help you get more control over your final master. You have the plugins to tune your tracks in your DAW, but what about the master? This is where the FabFilter Mastering Bundle comes into play.
You can now get rid of all those unwanted background noise from your tracks, play with dynamics in different frequency bands and get a clean, clear, and professional mastering result.
The 4 plugins included with this package are the Pro-C compressor, Pro-MB compressor, Pro-Q equalizer, and Pro-L limiter.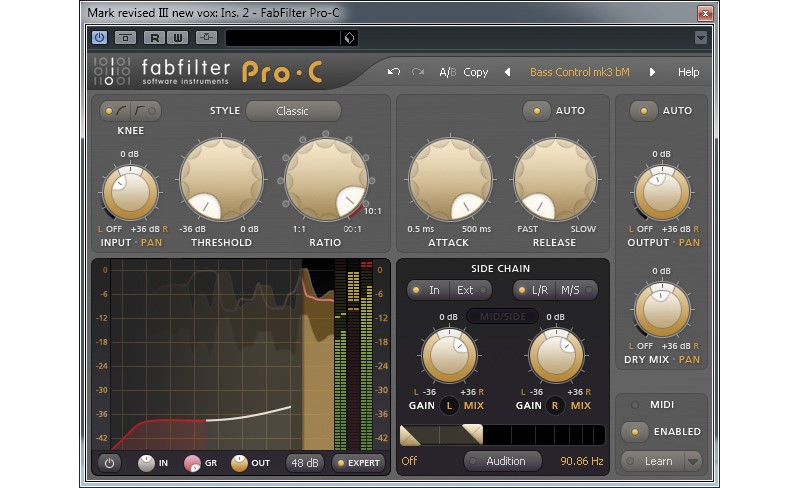 The Pro C Compressor
Fabfilter Pro-C Compressor is a digital mastering compressor with a wide range of tonal options for all types of music. It has been designed to offer the ultimate sonic control over your signal and sound quality. The Pro-C compressor has a clean interface. By looking at it you could be fooled into believing it is "just another compression plugin." Yet once you have taken an in-depth look under the hood you will see that it has significantly more to offer.
Within this compressor, there are 3 different modes of compression. They are presented as opto, classic, and clean. All of these modes have their own signature sound. They give of their own vibes and will give a unique overall impression to your tracks.
Once you click the expert tab, you will have access to a huge range of extra features. These settings can be a little intimidating if you don't know what you're doing. So beginners are better off avoiding this tab if you can.
The Pro MB Compressor
If you're looking for an all-in-one tool to compress and EQ your files, look no further. The Pro-MB Compressor is a fantastic piece of software that has all the flexibility you need to do just about everything. It's fast and easy to use, and absolutely amazing.
Of the two compressors that come in this package, the Pro-MB compressor is the simplest. It has 6 bands for you to fiddle with your sound easily without having to break a sweat. It's not as exact as the Pro-C but is great for getting the eq close first.
The Pro Q equalizer
As expected from this high-quality package, the equalizer is also brilliant. The interface is very easy to read and looks fantastic. It makes the simple functions of this equalizer incredibly easy to control. It uses simple drag and drop functions to create this ease of use.
The spectrum analyzer displays the frequencies being boosted or cut by the selected filter. The graph allows you to see all of the filters at once and zoom into each one individually. This makes it easy to edit more than one filter at once. Includes undo and redo buttons, detailed information about each feature within Fabfilter Pro Q and advanced options including MIDI learn, A/B comparison, EQ match and dynamic filtering.
The Pro L Limiter
Limiters are an often overlooked but very important plugin to get your tracks sounding professional. This does appear to be a simple plugin but once you dive deep into the software you will find that there is more to this limiter. The advanced tab on the Pro-L lets you drill down on the most minute parameters. Any stray frequencies are easily reigned in by this limiter.
This is an overall great package but is expensive when compared to a lot of the competition. Take a look at some of the other best mastering plugins to make a direct comparison.
Four is not necessarily a huge amount for a mastering bundle but don't let that scare you off considering this product. What it lacks in the number of included plugins, it makes up for with depth and detail of each individual product. They are some of the most comprehensive and cohesive on the market.
This article was composed by Chris Daniel of Incitemusic.com
Feel free to comment on this Fabfilter Mastering Bundle below 😉