Ableton Live Lite and Intro are two limited versions of Ableton Live that are very useful if you are starting out in computer music. You are hesitating between Lite and Intro? Here are the differences between these two versions.
Ableton Live is a reference in the world of music production, but if you're just starting out you may not want to spend hundreds of dollars on a Standard or Suite version. So if you want to get started with Ableton Live and discover its incredible power and smooth workflow in Session Mode, the Intro and Lite versions may be just what you need.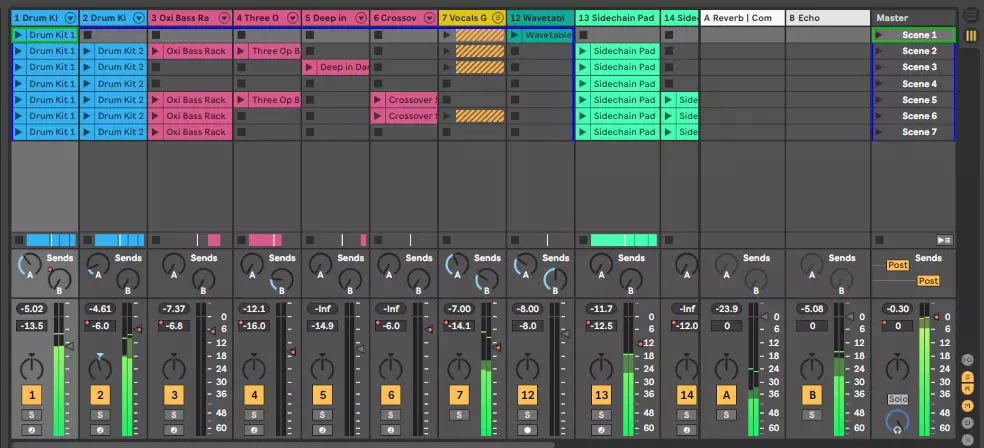 Both versions are very affordable. The Ableton Live Lite price varies between 0 and 20 euros, and the Intro version between 59 and 79 euros ($80 and $99).
Can I get Ableton Live Lite for free?
Sometimes...😁
Splice has offered Ableton Live Lite for free for a limited time. Check out their web site they might renew the offer. I'll keep you updated here.
You should be able to get a license if you have some of the following apps for iOS: EG Puls‪e, Patterning 2, Koala Sampler, Triqtraq and KORG iKaossilato‪r.
Computer Music magazine in its February 2022 (issue 304), also offered Live Lite for free.
But if you can't get Live Lite for free from Splice or an app on your iPad, what are the other options?
The problem is that this version only comes "free" with keyboards or MIDI controllers. Anyway, if you are starting out in music, you will need a mini MIDI keyboard, or a MIDI controller. There are plenty of them for less than 100 euros that offer a Live Lite license (see 1).
Otherwise, on some Ableton groups on Facebook or Reddit, some users give their Lite license or for a small fee (20 euros). Just ask! You can also buy unused licences on this marketplace for audio production software licenses.
What is the difference between Ableton 11 Lite and intro?
So if you can't get Live Lite for free, you still have Ableton Live Intro which is normally 79 euros ($99). If you wait for the special offers that usually come in spring or for Black Friday, you can buy it for 59 euros (or $70).
Six months after the general Live 11 release, Live Lite 11 has been released, with great additions like 16 scenes instead of 8 and MPE suport!
So what exactly is there more in Ableton Intro than in the Lite version?
16 audio and MIDI tracks (instead of 8)
5 GB of sounds in total, effects sounds and audio loops, against 1 GB for Lite
Comping to record multiple takes of a performance, then combine the best ones
4 more audio effects: Auto Pan, Gate, Grain Delay, Looper (see image below)
LFO device to modulate up to eight device parameters with one device
No differences on MIDI effects, same for both versions 👍
Video import/export
So in the end that's a few more audio effects. But the 8 tracks of Live Lite is a limitation that can be reached very quickly, as soon as your compositions are a bit complex.

4 more audio effects for Live Intro
Anyway, you can always make up for the missing plugins with free VSTs that you can find on:
With the latter for the price of buying a single copy of the magazine, you will have access to a hundred quality audio effects, as well as many quality synthesizers.
Is Ableton Live Intro worth it?
Ableton Live Intro and Lite are both totally worthwhile. Once you get to know the software and experience the benefits of a Session View-based workflow, you'll understand why Ableton Live is so popular.
Ableton introduced recenty the iOS app Note, which allow to start musical ideas on your iOS device, and then send them to Live using Ableton Cloud. You'll be please to know that Note work with both Live Lite and Intro.
The limitations of the Lite and Intro versions can be easily overcome with a myriad of free plugins. (by the way, do you know the free Surge synth?)
And later, if you want to upgrade to Ableton Standard or Suite, despite the high price, I can certify you that it is worth it. If you calculate the cost of buying additional VSTs and Audio Units, effects and virtual instruments to reach the level of Live Suite, you will see that you are far beyond the price of Live Suite!
To support this blog, you can buy Live Intro 11 in the affliate link below: 😉