The AKAI APC64 and the Novation Launchpad Pro MK3 are two great MIDI controllers, and they have a lot in common, like a polyphonic sequencer, standalone mode and 64 pads with aftertouch! So how do you decide on one or the other?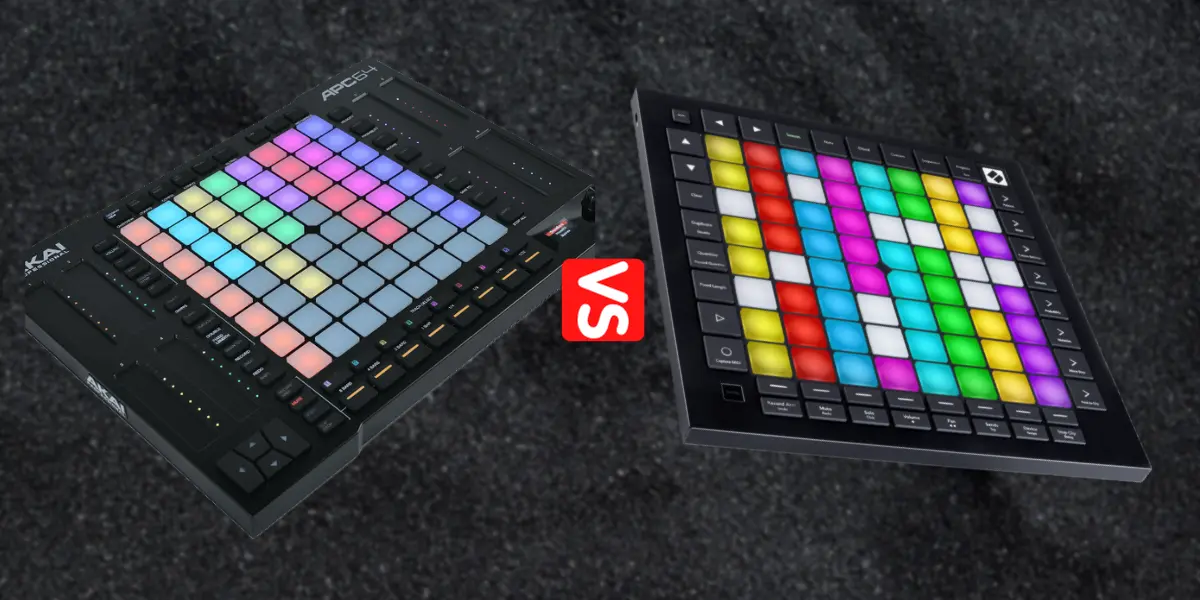 They both have a great sequencer, with multiple MIDI outputs. You can use them with your DAW or fully standalone, and they share the following specs:
64 velocity-sensitive pads with Poly Aftertouch and many scales settings
1 MIDI In and 2 MIDI out ports with TRS mini-jack connectors for external hardware control
Polyrhythm by setting the end steps of the patterns freely
Chords mode
32 steps patterns
Steps probability and mutation
Ableton control of mixing and device parameters
Global tempo and swing
Since the APC64 is priced $100 to $150 higher than the Launchpad Pro mk3 (100 to 150 euros). Are the additional features of the APC64 really worth the price difference and suit your workflow? Let's find out!
Akai pro APC64 strengths
8 touch strips to which you can assign any MIDI CC, but no pitch-bend
8 tracks sequencer vs 4 tracks on the Launchpad Pro
8 trig CV/gate outputs which can send Pitch/Gate notes, DRUM gates, CCs, Faders, Velocity and Aftertouch of the last played notes
One custom mode with any notes, MIDI CCs and CV signals can be freely assigned.

Launchpad Pro MK3 Advantages
Quantized and unquantized standalone recording
64 projects instead of 24 project on the Akai.
Pattern chaining for longer sequences without loading new projects. Each project has 4 tracks with 8 patterns of 32 steps which can be chained.
16 pattern scenes to trigger with one button, your selected patterns in all four tracks
You can add up to six sub-steps to a step using micro-steps, which is useful for adding groove or playing a trap like a ratchet.
probability and mutate setting for each step even if there are multiple notes on a step
8 customizable pages, where you can assign MIDI CC, Program changes, volume knobs, and faders on the 64 pads.
Simple real-time transposition of sequencer patterns to other scales
Polyrhythm and setting the start and end steps of the patterns freely
Four sequence modes: Up, Down, Up/Down, Random

Good reasons to choose the Akai Pro APC64?
You will prefer the APC64:
if you want to play your modular synths directly with CV output 🎛
and if you don't have a MIDI to CV converter in your set-up
if you need up to 768 steps for your patterns with projects chaining, since the Launchpad is limited to 256 steps. But this comes at a price: your 24 projects slots will all be used :(
for the 8 touch trips which can send MIDI CC. However CV modulations cannot be sent.
Good reasons to prefer the Launchpad Pro Mk3?
You will choose the LaunchPad Pro:
if you want flexible pattern chaining, and 64 projects. The APC64 has only 24 projects and sequencer patterns can be chained by chaining projects, so in reality you will run out of project slots quickly. The Launchpad Pro can chain up to eight 32-step patterns without having to load another project.
if you need a more capable sequencer: substeps and unquantized recording, pattern chaining and scenes, random sequences, automatic transposition, etc.
if you need more flexible custom modes. It has 8 custom modes with notes, program changes, CC sliders, giving you up to 64 virtual CC sliders. The APC64 has only 1 custom mode and no support for Program Change.
My preferred controller and sequencer under 500 euros
If you want to support my blog, and continue to read comparisons like this one, you can buy the sequencers using the affiliate links below 👍
These two controllers are really interesting and it's hard to make a choice. One thing's for sure, if you want a more advanced standalone sequencer, the Launchpad Pro mk3 is the right choice. But it only has 4 tracks. One problem, there are no CV outputs on the Launchpad, but if you get a simple MIDI to CV converter on your modular, you will really like the Launchpad sequencer.
In terms of expressiveness, the APC64's 8 assignable touch-strips are a huge advantage. It's impossible to change the filter of a synth while you're playing on the Launchpad (except by using Aftertouch).
So I can't pick a winner at the moment - it all depends on your workflow. Chances are that the APC64's firmware will be upgraded soon, and its rudimentary sequencer improved.
Feel free to comment below if you find inexact information or if the APC64 is updated 😊