The Korg SQ-64 and the Novation Launchpad Pro MK3 are products that are marketed completely differently. And yet they have a lot in common: A standalone 4-track polyphonic sequencer! So how do you decide for one or the other?
Both are sold in the same price range, below $300 or 300 euros. This article was updated with the new SQ-64 features with firmware ver 2.0.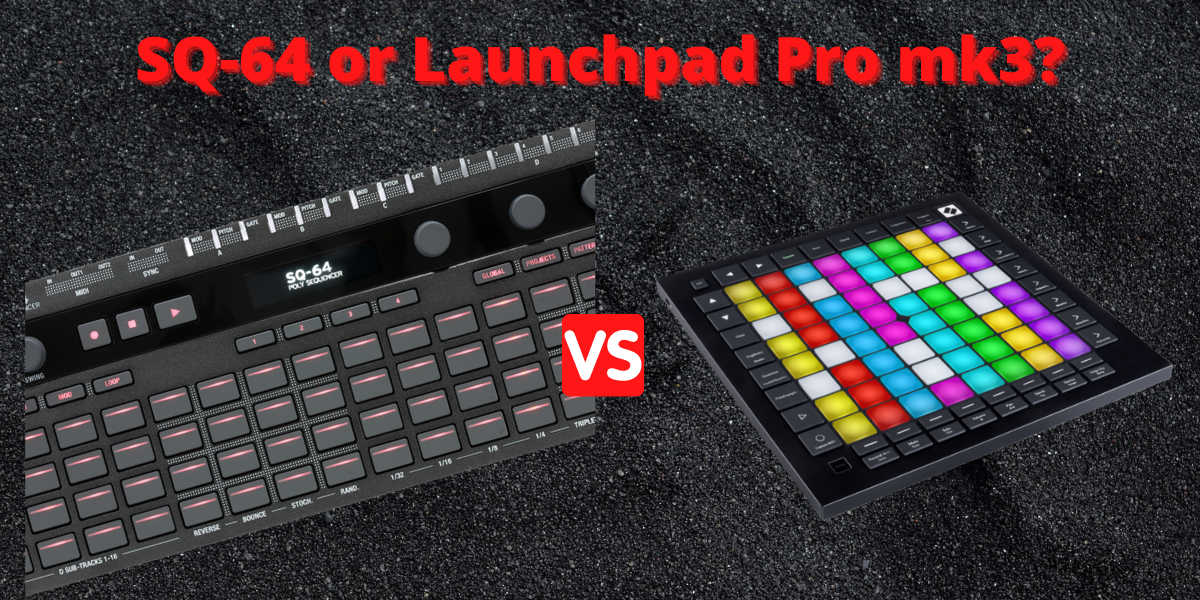 They have a great 4-tracks sequencer, polyphonic, with multiple MIDI outputs. You can control them with your DAW or use them fully standalone with their 64 keys matrix, and they share the following specs:
1 MIDI In and 2 MIDI out ports with TRS mini-jack connectors
Global tempo and swing
Polyrhythm and setting the start and end steps of the patterns freely
Pattern chaining for longer sequences
Sequence modes: Up, Down, Up/Down, Random
Polyphonic melodic mode with predefined scales
Steps probability
Easy patterns transposition to other scales
Quantized and unquantized Live recording (new in SQ-64 firmware ver 2.0)
Korg SQ-64 strengths
More steps: 64 steps vs 32 on the Novation
64 projects and 4 tracks with 16 patterns of 64 steps
Modulation recording: CV modulation and MIDI velocity or a chosen Midi CC (one modulation per track)
3 mod/pitch/gate CV outputs for the 3 melody tracks
8 trig CV outputs for Analog drums for the drum track
Stochastic sequencer mode: at each sequencer step the next step will be decided randomly among four choices: one forward, skip one forward, one backward, or repeat the same step.
Moving notes before or after a step division, and step sub-division for ratchet effect
Slide between steps with different curves
Control mode where the 64 pads send MIDI notes, and knobs MIDI CCs. It's configured using the SQ-64 editor.
Analog sync in/out ports
Strum function which is labeled as Arp mode
Step recording (new in SQ-64 firmware ver 2.0)

Launchpad Pro MK3 Advantages
64 projects like the Korg. Each project has 4 tracks with 8 patterns of 32 steps
16 pattern scenes to trigger with one button, your selected patterns in all four tracks
all 4 tracks can be configured for melody or drums
the 64 pads are velocity-sensitive with aftertouch, while they are not on the Korg
Micro-steps allows you to add up to 6 sub-steps in a step, for adding some groove or playing a trap like ratchet
Probability setting for each step even if there are multiple notes on a step
Mutation of the steps, where some random semi-tones are randomly added to the recorded notes
8 customizable pages, where you can assign MIDI CC, Program changes, volume knobs, and faders on the 64 pads
Allows playing on a 5th channel while the sequencer is running. Not possible with the SQ64: played notes are only output in record mode.
Full advanced Ableton Live control, plus custom modes for Logic Pro, Elektron Octatrack / Digitakt, Korg Volca / Minilogue

Why would you choose the Korg SQ-64?
You will prefer the SQ64:
if you want to play your modular synths directly with CV output 🎛
and if you don't have a MIDI to CV converter in your set-up
if you need up to 1024 steps for your patterns, with patterns chaining, since the Launchpad is limited to 256 steps
if you need CC automation (but 4 CCa since only one CC per track). You can change CC live on the LaunchPad but can't automate changes.
if you need per-track swing setting
if step recording is part of your live workflow
Why would you choose the Launchpad Pro Mk3?
You will choose the LaunchPad Pro:
if you want to record velocity easily in the sequencer without an added keyboard 🎹
if you have synths that handle polyphonic aftertouch
if you need 4 melodic tracks, and play live with a 5th track where the MIDI channel can be switched easily (the 4th track on the SQ64 is drums only and not very flexible)
if you need more flexible custom modes. It has 8 custom modes with notes, program changes, CC sliders, giving you up to 64 virtual CC sliders
if you want quality and sensitive pads, which are loved by many finger drummers
if you need to save your patterns to a computer (not possible currently on the Korg)
My preferred sequencer under 300 euros
If you want to support my blog, you can buy the sequencers using the affiliate links below 👍
My preferred sequencer for that price range is currently the Launchpad Pro mk3 (don't buy an mk2, it does not have a sequencer).
The sequencer interface is so much intuitive on the Launchpad. On the Korg, even for basic gate length or simply adding and removing notes you need to dive in submenus and constantly play with the knobs, read the tiny LCD...
There's no LCD on the LaunchPad and there's no need. The information is clear thanks to the colored pads. The scene function is great for a live performance where you need to quickly change the patterns played. Lastly the sequencer workflow is very similar to the highly popular Novation Circuit Tracks and Rhythm.
Ok, there are no CV outputs on the Launchpad, but if you get a simple MIDI to CV converter on your modular, you will really like the Launchpad sequencer.
The Launchpad Pro Mk3 is intuitive, fast, and flexible. Here is a small tutorial showing sequencing on the Launchpad Pro.
Feel free to comment below if you find inexact information or if the SQ64 is updated 😊