Change the MIDI channel of your Volca Keys, this great little analog synth? You did it a few months ago, but you don't remember where it is, and the manual is not really clear. Well, you're in luck, here you'll quickly find the main parameters hidden in your Volca Keys :)
How to set the MIDI channel?
By default it listens on MIDI channel 1, so you really need change the MIDI channel of your Volca Keys if you have more than one synth in your synth setup. Note that this trick works with Volca Bass, Volca Drum, Volca Samples etc.
Let's go:
While holding down the MEMORY button, turn your Volca on
Keyboard keys 1 to 16 correspond to the MIDI channels 1 to 16. Press the one of keys to set the desired channel, and the LED below the keyboard will light up.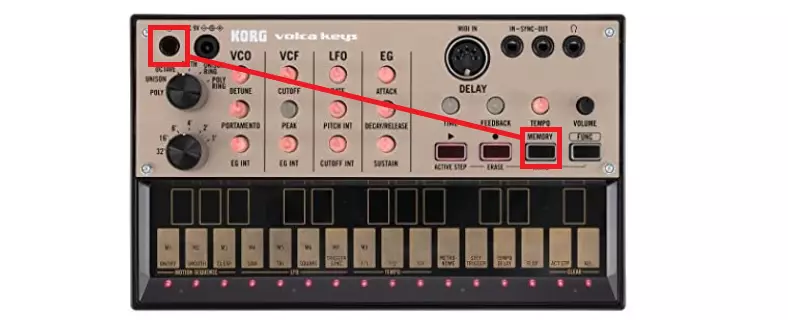 How to change global parameters of your Volca Keys?
In the global Volca keys parameters, you'll find a few useful settings related to MIDI clock sync, tempo range, and MIDI ShortMessage, which allow you to tweak the sound engine via MIDI CC messages.
To access global settings:
Turn On your Volca Keys, while holding down FUNC button,
Use the keyboard keys 1 to 7, to set your preferences for any or all of the global parameters. (Refer to the table below)
When you have finished, press the 🔴(REC) button. Your settings will be saved, and the volca keys will restart. To cancel any changes, press the ▶(PLAY) button.
| Button | Parameter | LED lit up | LED unlit |
| --- | --- | --- | --- |
| 1 | Auto power-off function | *Enabled | Disabled |
| 2 | Battery type selection | Nickel-metal | *Alkaline |
| 3 | Sync Out polarity | Fall SyncOut Lo | *Rise SyncOut HI |
| 4 | Sync In polarity | Fall SyncIn Lo | *Rise SyncIn HI |
| 5 | Tempo range | Full (10-600) | *Narrow (56-240) |
| 6 | MIDI Clock Source | *Auto | Internal clock |
| 7 | MIDI RX ShortMessage | *On | Off |
*: Factory default setting
How to check the firmware version on your Volca Keys?
If you want to check the firmware version, turn the Power ON while pressing the REC button.
How to reset your Volca Keys?
To restore all Volca Keys sound programs and sequence data:
While holding down the FUNC and MEMORY buttons, turn the VolcaKeys on
The (REC) and (PLAY) buttons will blink
Press the (REC) button to restore the factory defaults
Or Press the (PLAY) button to cancel the reset operation and simply start Volca Keys
If you've found more MIDI tricks for your Korg Volca Keys, please comment below 😉