Looking for sampled Handpan / Hang Drum sounds for your DAW or Groovebox? You have the choice between several hang plugins, and you can also create your own Hang Drum with great free samples. This guide will walk you through the process.
The Hang Drum, often simply referred to as the Hang, stands as an extraordinary and captivating musical instrument, unlike any other. Its ethereal tones possess the enchanting ability to transport you to realms far beyond the ordinary. The melodic notes it produces possess an inherent serenity that can have an almost hypnotic effect, gently lulling the mind and soothing the soul. Yet, beyond its calming attributes, the Hang Drum has the power to stir profound inspiration.
It is crafted from two steel hemispheres that are tuned to create a range of notes and sounds. The instrument is handmade and requires a great deal of skill and craft. It is no wonder why the hang drum is so pricey! So what are the electronic options to get that magic sound in your productions?
Hang Drum / Handpan free samples for DAWs
Where to find good sampled handpan sounds? Have heard of the Freepats project ?
FreePats is a project for the creation of a free and open collection of digital instruments for music production.
And guess what? On Freepats you will find a quality multi-sampled Hang in their samples library!
It's a Hang tuned in D minor, and the sounds are available in zoom H2, SFZ, and WAV formats. The Hang was recorded at the Medialab-Prado auditorium, by Gonzalo and Roberto, using a Zoom H1 portable recorder mounted on a tripod. SFZ files can be used directly in Bitwig sampler and in many DAWs thanks to this great free SFZ plugin.
Free Hang Drum for Ableton Live

For Ableton Live users, I prepared a sampler version in the form of Drum Kit that you can download, for free of course, on my Patreon. I chose a loosely circular layout to facilitate playing the Hang on 4x4 drum pads. And if you don't like the position of the Ding, or the Gu, you can simply move it to another pad with a drag and drop.
Free Hang Drum for Roland MC-101/707/MV-1
You can play also this hang drum on your Roland MC/MV. It's more limited than the PC version since you can't easily do multiple samples layers on the Roland MC and MV. To compensate and use all the 16 pads, the main sounds are distributed on a circle and the pads on the left or right are used to play a softer variation of the sample, as you can see on this MV-1 layout: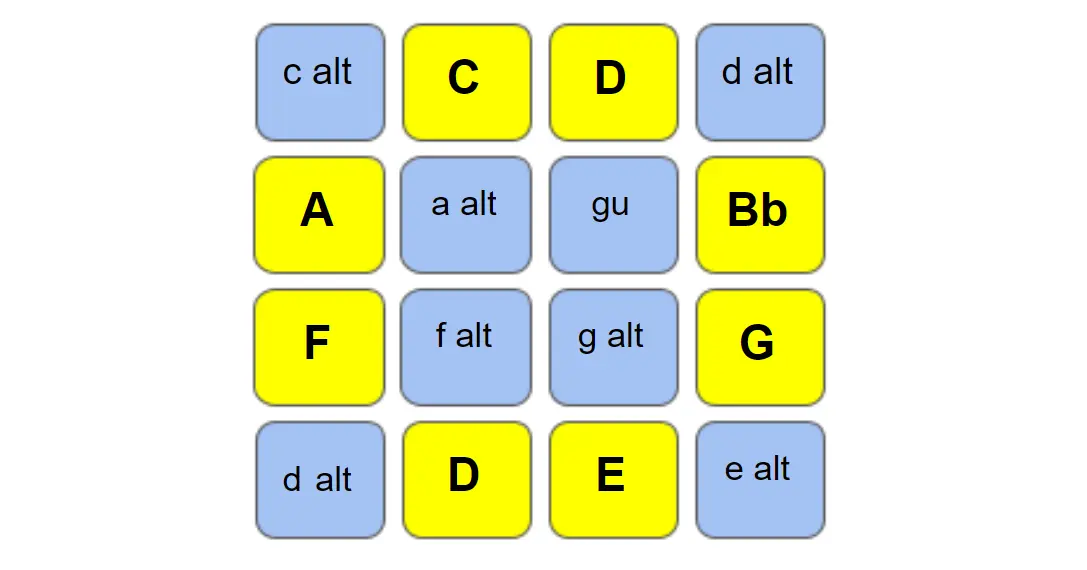 Simply load the MVC file which can be downloaded below ("load clip" on your groove box):
Non-free Hang plugins and sounds
If you use Ableton Live, you can get the Pan Drum pack for a great price. Two hangs, one mk1 and one mk2, were sampled with multiple velocity layers, with a total of 1000 samples.
This pack is also available as a standalone plugin from Soniccouture.
Another variant of this pack is available for those who prefer Kontact Player: Pan Drums NI.
On Plugin Boutique, you will find Pandrum which is a nice collection of 6 handpans and 2 tongue drums, which have been recorded in a very precise way. However, this sample pack requires Kontakt Full: Pandrum
Now you can have fun with your DAW and reproduce this beautiful instrument that is the Pan drum!
If you have a Splice or Loopcloud subscription you can also create your own virtual Hang, using samples found in packages such as 'Circle of Tones' or 'Handpan Melodics'.
If you know of other free Handpan or Hang sound packs, don't hesitate to share them in the comments below. I am also interested in all types of instruments, exotic or not, such as harp guitar or flamenco guitars, so don't hesitate to post your sound requests below.